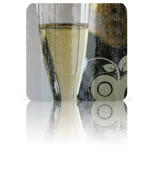 Champagne Glass
- Developed for TickleSpace Inc.
iPhone can now fart and make lots of silly noises.

Let's put some 'class' back into the iPhone by turning it into a fancy Champagne Glass!
It is loads of fun for any special occasion.

Features:
- Tap the virtual glass to hear High quality crystal clink!
- Toast with your iphone (tap iphone against a glass to hear crystal clink).


Enjoy.




Download Champagne Glass now